I wanted to share to everyone today is when my kids and I went to the school for the open house on the first week of Aug. On the open house, we got the chanced to see the whole school, roamed around the hallway, and locate Jian's 3rd grade classroom. Teachers were not present that day and the classrooms were closed, so we just walked around the hallway and get Jian familiarized the location of his new classroom which is not hard to find because it is just across from his old classroom. So we have no problem of him getting to his room on his first day of school and finding the restroom cause he knows it already. We had fun looking around and peeking thru the glass door of his room imagining him seated on one of the chairs listening to his teacher. I was excited and so does JJ. My little was excited to go to school too but he can't yet this year.
Anyhow, we explore every corner of the school, even in the 5th and 6th grade area. We look inside the gym and the cafeteria too, and inside the cafeteria I saw this cool big sign below which is a very good reminder for all the kids about bullying. Isn't it cool?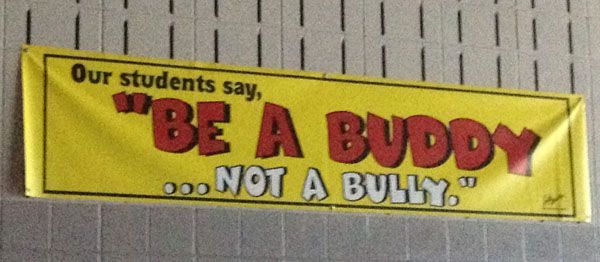 And below is the school logo TEAMS and what it stands for.

My son is very proud to go to school here. Last year he had no troubles. I hope this coming school year he will have fun learning and making friends.