Student of the Week
My son was the Student of the Week from Nov. 5 -9. The teacher send home this paper below to answer in order to know more about him.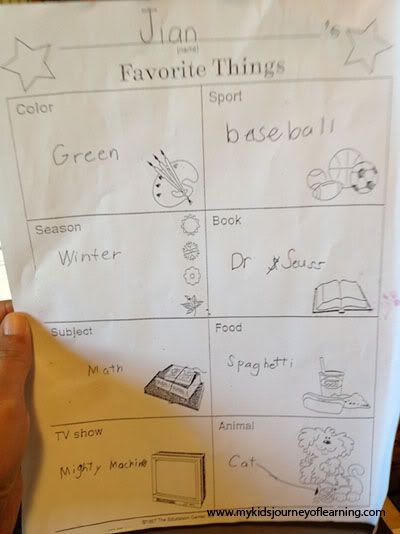 He also need to bring stuff to show to his class that are important to him like photos, toys, books, and etch. He brought some old photos of his first day here in US, and also his first taste of snow, first Halloween, first Bday here in US, and his first Christmas here. I chose the photos of course on what to show, and told him what to say to everyone, and how he came here in US. Not only that, he also brought some toys that were very important to him, and his Drawing Album where he put all his drawings  since he was 4. It was pretty cool. And when he came home from school on his first day as a Student of the Week, he was very excited to tell me what happened, and the stuff that he said to his class.
On his second day, he brought his fave book to show, 'The Green Eggs and Ham by Dr Seuss', and read it in class. He said it was fun being the Student of the Week. He learned a lot of stuff and got the chance to talk in front of the class. I remember when I was little I used to be so scared to stand in front of the class. I guess kids now a days are braver and smarter. Hearing my boy about his day in school was such joy.