His Personal Pan Pizza
A couple of days ago, I shared to you about the Pizza Hut coupon that my 2nd grader got from school for reading 6 books for the month of November. Well, the other night, we went out to claim his free Personal Pan Pizza. It supposed to be one topping only, but I requested to add more toppings and we will just pay for it. The management said yes, so my boy ordered his favorite, the Hawaiian Luau, bacon pieces and pineapples on it. It was very yummy! It is much yummier than the Large size Hawaiian Luau.
Check out my 2nd grader below, can't wait to get home.  He shared a slice of his pizza to his little brother.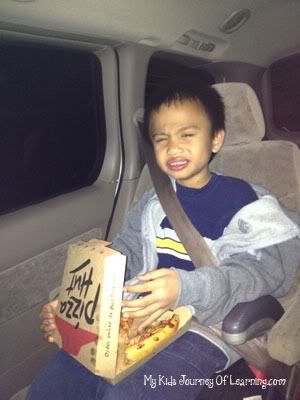 Pizza hut is just around the corner here in our new place, so claiming his price was easy. I didnt get anything extra since, I made some dinner for hubby and me. 🙂