Curriculum Day 2011
I just want to share the last school year Curriculum Day in Spring Grove Elementary School that my eldest used to attend to when he was in 1st grade. It was a very special event for my eldest, because it was the day when they showcase all their work for the whole school year of 2011-2012. He told me that some of his work were featured on the wall and in the art class. I was really excited to go to his school that day and look at all his work that he was so proud and excited to show me. I wish his Plop Plop was there to see all his hard work, but he had a big job that time so he was not able to attend.
Anyway, there were so many parents even grandparents who attended the said event.My boy took me right away to their classroom and showed me all his paperwork. I was impressed! He did a pretty good job last year. I saw a lot of stars on his papers, and his English were good. He can write a good sentence, and can describe things properly. I was so proud of him. I hope he will not stop learning and keep on advancing.I know he is in a lot of stress right now for being the new kid, and lack of friends in his new school, but with my support and guidance, he will make it just fine. Below are some of the photos I took on the Curriculum Day 2011.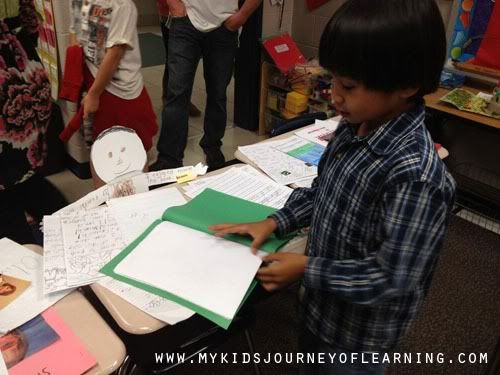 Showing me some of his work. The classroom was so full of the kids worked, every corner, every side of the wall, they filled it up with all the things they did.
Below was his artwork that was included in the Art Show.