School Open House
Yesterday was my son's new school open house. Its when the new students and parents get the chance to explore the school, familiarize with the facilities, check out the classrooms, and meet the new teacher for the first time.  The school was not as big as Jians previous school, it was all in one floor which is a good thing, I dont have to worry about him falling or tripping down the stairs. They have pretty much of everything like any other school here in US. They have a big cafeteria, a big gym for playing indoor, and a big yard that has a playground and ball fields, which got my kids so excited when they saw it yesterday. 🙂
This school is used to be grade 5-6 only, now they are open for grade K- 6. Its the first year of the school to open from K-4, so everybody is new in this establishment except for those who are gonna be in 6th grade of course. Also the teachers are new. I was able to meet Jians new teacher yesterday. She seems very nice. A petite lady who is in her early 50's I believed. I hope she is not as strict as my Chemistry teacher when I was in high school . hehehe.
Anyhow, my kids were so excited to look around, checking out where is the restroom, the lockers, the library, and stuff. Before we left the building, we spotted some wall paintings. I thought its pretty cool. Check out the photos below.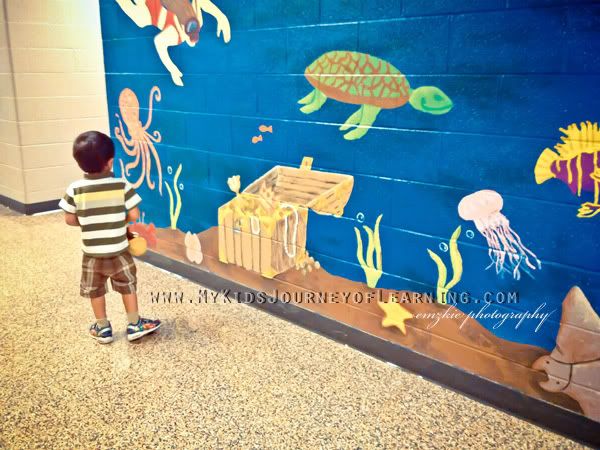 Arent they pretty? Theres more like this in every corner. I think the students painted it, because there are names on the creatures on the 2nd photo. 🙂 . I sure love their creativeness. I cant wait for my Kuya to learn all this stuff.